Chez_Jose



Joined: 23 Jun 2006
Posts: 14
Location: In the kitchen, of couse.
Posted: Sat Jul 29, 2006 6:04 pm

Post subject: Slice

---

I found this site that I think people will enjoy.
Lot's of pizza info and also NYC food.
Great section on New Haven also.

Slice
_________________
Don't bother me.....I'm simmering.
pizza
Site Admin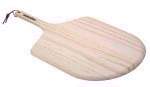 Joined: 19 Jun 2006
Posts: 701
Location: Honolulu, Hawaii, USA
Posted: Sat Aug 19, 2006 10:36 am

Post subject: Excellent Recommendation!

---

I agree 100%.



Slice

is an incredible pizza resource. This blog offers off-beat opinions and updates of all things pizza.



Adam Kuban

is the mad genius behind

Slice.

Aided by City Editor,

Seltzer Boy

, and Roving Reporter,

E-Rock

, ("the

Hunter S. Thompson

of pizza journalism"—),

Slice

is a must read for anyone who has ever sampled pizza.



Slice

is regularly updated with pizza lore, folktales and hard edged pizza news you will find nowhere else.



Slice

is one of my favorite pizza resources on the Internet.

Here is the link, again:
http://www.sliceny.com/
_________________
"Pizza on Earth...Good Will to All!"
Visit: http://pizzatherapy.com
http://pizzatherapy.blogspot.com/
http://legendsofpizza.com/blog