Line up ten different Italians, ten different chefs, or ten different expert cooks, and ask them this question:
How do you make spaghetti sauce?
You'll get ten different answers.
It's not that making sauce (gravy) is so difficult, its just that there are many different tastes, many different regions and so many different so called experts.
Here is the truth: they are all right.
I was very fortunate to have two Italian grandmothers who made the absolute best sauce. But to tell you the truth, Grandma Grande's sauce was different from Grandma Palmieri's. And my mom's is different from both of them.
But that doesn't mean that each one made a better or worse sauce. They were all excellent.
Join me now as I reveal all of my secrets, in the following video. Here is how I make my gravy...er, sauce.
Albert Grande's Step by Step Video Lessons for a
Basic Red Sauce: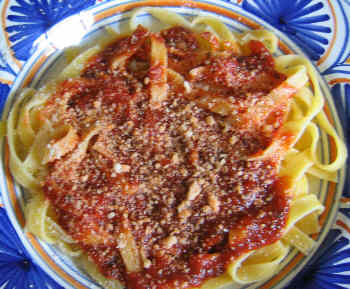 Tagliatelle pasta with homemade
red sauce from pastatherapy.com